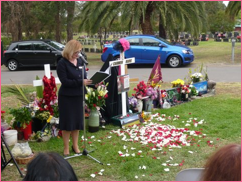 PLANNING A FUNERAL? Give yourself time...
No one wants to face the end of the life of a loved one and there is so little time to put it all in place when the time comes.
Preplanning a funeral in advance is something few of us want to think about, yet we really do all have to think about it eventually. My personal experience of preparing for my dear Mother In Law's funeral with my husband before she passed at the age of 94 gave us clarity and helped us when the time did come. With several things in place already we were able to handle the final details and deal with our own and our family's grieving without the added pressure of having to put it all together in just a few days.

MINISTER OR CELEBRANT? There is a choice.
Not everyone knows that a funeral can be officiated by a Celebrant - just like a wedding you have options.
Liz will take the time to sit with you and your loved ones to help put together an appropriate, personalised and fitting ceremony for your loved one's farewell. If you would like some religious content that's fine, or if you want to do The Chicken Dance or a kick line to New York New York that's fine too!
From the traditional, simple and sedate to a heartfelt and 'out of the ordinary' send off Liz will guide you through the process to make this occasion right for both your dearly departed and for those saying goodbye.

WHERE DO YOU START?
Liz will help guide you through this process. Having worked with the majority of Funeral Directors in and around Sydney Liz has a 'feel' when it comes to suitability and compatibility. It really does help when you get a recommendation rather than having to ring around at such a difficult time adding to your stress levels. Here's a little help with one of the most daunting tasks...

PREPARING A EULOGY, TRIBUTE OR LIFE STORY
"A Eulogy is a speech or writing in praise of a person or thing, especially one recently dead or retired". (Wikipedia)
So you're staring at a blank screen wondering how do I start and where do I start? I often suggest starting by simply typing (or writing) 2 words - 'Mum was' (or 'Dad' or their name of course) from there it will begin to flow. For younger relatives, I often suggest that they might like to write a letter. It doesn't have to be a long letter, just a few lines and of course if they prefer I would read it on their behalf. Much as I encourage family members & loved ones to be the voices heard at a funeral service it is part of my job to be there to support those who write contributions and wish to have them read for them. Even take over reading if it get's too tough to continue. But only when I'm given 'the look' or asked directly.
The Life Story can be a daunting task and I tend to help families with this more often than not. So much so that I have made up my own 'guide' which is on a downloadable pdf, with my compliments. Many Celebrants and Funeral Companies have their own 'how to's' I hope this helps.
PDF "Putting together a Eulogy or Life Story".

PERSONALISING A FUNERAL and yes, adding something to cause a smile.
I know most feel that it may be irreverent or inappropriate but I just have to say that funerals do not all have to be sombre and serious. Of course there are many occasions where there is tragedy involved and there is just no way we can move from the mood. But there are also many occasions and personalities that I have encountered where some individuality and light heartedness most definitely suit the occasion and the individual being farewelled. More and more people are thinking about their own funeral arrangements and families and loved ones are seeing that they can think outside the square. Below are two photos one where the lady's favourite colour was pink and she had a very wry sense of humour - the picture says it all. The other, if you look closely is a very clever arrangement made entirely of vegetables. This dear chap just loved his vegetable garden and so the family honoured him in that way.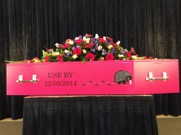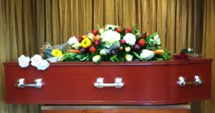 Music and of course some funny anecdotes as well as personal memorabilia are also ways to represent the character and spirit of the person we are paying tribute to. I have also seen much loved constant companions of the four legged variety attend funerals and heard some very different song choices. Don't be afraid to ask.


ABOUT LIZ
Liz specialises in being a Funeral Celebrant. She is a registered and fully qualified Authorised Celebrant who can and does conduct all kinds of Ceremonies for all life's occasions but has found great satisfaction in providing this, most personal service to families & loved ones. She takes great care and pride in providing resources such as music, readings, poetry as well as ritual and symbolism to help create the perfect service. She will think outside the square but most of all listen and take the time.

Liz Taylor
Personalised services with care and respect.
Contact Liz
Liz lives in Balgowlah on Sydney's Northern Beaches right next to Manly and it's famous ferries. She is happy to travel anywhere.
Postal address: PO Box 1627, Neutral Bay NSW 2089 Australia
Email: liz@liztaylorcelebrant.com
Mobile Phone: 0411 422 681 (or from outside Australia: +61 411 422 681)