10/12/13 09:05
Hello, it's been a while since I did a blog but today I'm inspired.
You see yesterday I had perhaps the hardest role in my 2 years as a Celebrant and in a long time personally.
I conducted a "Celebration of Life" for a very dear friend of over 30 years who I consider family more than friend. It was a tough time as she had suffered a severe stroke and even though she had fought and won many battles with her health over many years this proved to be too much for her little body.
So those closest to Marie (pronounced Maaaaree) gathered ranks around her husband John and together we planned her service and what would happen on the day.
John had discovered a little pink book and inside it Marie had written down what she wanted for her funeral. The colour of the coffin, the flowers colours to go with the coffin and if the cream one with gold handles wasn't available then to go with rosewood with different coloured flowers! There's more. Her song choices, which curtains to close and when, and that she wished for John to release a single white dove at the end.
This actually gave John strength and resolve to carry out her wishes.
Yesterday, when it all came together I could see and feel that John was greatly satisfied that this had all happened for his beautiful wife exactly as planned.
Another close friend suggested that we dress a la Melbourne Cup style and even wear a hat. The 200 or so attendees were indeed colourful and stylish, just like our beautiful Mars Bar was throughout her life and it was a truly beautiful and warm celebration of her life.
Today I am going to go and buy a little pink book and write down my own wishes for my funeral and also some information for my husband regarding passwords to my Facebook accounts along with other information regarding bank accounts, credit cards and people who should be notified.
As I put this together I will make up a guideline, or kit if you like, and post it here for you to use to create your own little pink book.
What Marie did was give John a huge gift. It took the stress out of decision making for such things and knowing he had carried out her wishes gave him a lot of satisfaction and inner calm.
I encourage you to think about such things for your own loved ones. To make it easier for them and encourage them to do this for you.
I call it 'Marie's Gift'.
16/06/13 22:30
Probably one of the first questions I get asked is what exactly it is that a Celebrant does.
Especially when it comes to funerals. The next question is usually "but you do weddings too right?" Well of course I do, and as you will have seen on my Home Page I do a lot more. Baby Namings, Renewal of Vows and Commitment Ceremonies to name just a couple (or three).
So, in case you are wondering, here's what I do.

For a wedding I meet with the Bride and Groom and literally plan, compose and put together the script for the ceremony that is their wedding. I also take care of all the legal paperwork and submit it to the Births, Deaths and Marriages Registry in the State the wedding was held in. I am answerable to the Attorney General's Office and it's actually quite serious the responsibility I have in getting the legal aspect of the wedding right. A stint in gaol can be a penalty if we do things wrong! So we Celebrants take our roles very seriously in the lead up to the wedding and in conducting the wedding. It's also our job to make it fun, light and memorable and exactly what our couples want if we possibly can.

When it comes to Funerals I find the best answer to the question is - "well, I am the 'we are gathered here' person".
It's still a fairly new concept that with Funerals we have the choice between employing the services of a Minister of Religion or a Civil Celebrant to conduct the service for our dearly departed.
Again, I meet with the family or closest to the departed and together we discuss the script of the service, music choices, poetry and readings and I help with putting the Eulogy or Life Story together if the family need help with that too. I then deliver the service, co-ordinate speakers and readers and cue the music and Visual Presentations liaising with the Funeral Arrangers the whole way through.
Friends often ask me if I get caught up in the grief and sadness that comes with funerals and I have to say mostly I don't. I say mostly because I am only human and some situations are just heart wrenching, but I know that my role is to guide these grieving people through the preparation of a fitting and proper service or tribute to their loved one. Many now adopt the view of celebrating a life and giving them a good send off.

It's not what people like to talk about but I am very aware that when people find out what I do they have so many questions they want to ask. So I hope this has given you a little insight into what I do, and love to do.

Until next week, keep smiling and go the blues!!!


Liz




10/06/13 11:22
It's the Queen's Birthday long weekend and I have a little spare time to work on the website and thought I might try out the old Blog-o-sphere for myself. So welcome one and all. Not sure how often I will do this, I'm thinking weekly but to begin….. Here's my blog for today.






LOVE LOCKS AND OTHER RITUALS.
This morning I sat down and did some research for vows, poems and readings as well as updating my resources for rituals, or, ceremonies within the ceremony. Things like Unity Candles, Sand Ceremonies, Hand Fasting, Ring Warming (or blessing) and now the very popular Love Locks.
Love Locks have been around for years and are often seen attached to bridges and other structures.
A couple might have a padlock each with their names engraved which they attach together onto the structure and throw away the keys symbolically locking their love together forever. Isn't it gorgeous?
Some have one padlock with both their names and a little message. Some keep them on a lovelock tree at home having discarded the keys. And some are small enough that the Bride can wear them on a chain on her wrist.
I loved the idea of tying the keys to a balloon and releasing them into the sky - that is until I read about the possibility of balloon with metal keys getting caught in the engine of a plane!!!! Hmmm, a rethink is needed here.
After some initial giggles at the title I prefer to use, I have found the Ring Warming (or blessing) Ritual a very popular choice with my couples.
The wedding rings are held in the hands of parents, children (if the couple have children) or if a small gathering all those present can do this. Then each person silently holds the rings and gives them their blessing or wishes for the couple with loads of love and passes them on ending up back in the ring bearers hands ready for the exchange. This can be done at the same time as a reading quietly and meaningfully.
Every time the couple look at their rings they will be reminded for the love and well wishes/blessings of their loved ones forever. Even if the young daughter of the Bride did wish for a scooter! it brings a warm smile to her Mum's face and will for years to come. (That was at my 12/12/12 wedding - I just knew it would be special!) I've since worked on the wording to try and be clearer but what a gem!
I love these rituals or ceremonies within the ceremony. There are those who don't want any rituals or ceremonies of course. I kind of keep it to myself that they are actually doing exactly that by exchanging rings. Some of you may not know that the exchange of rings is not a legal requirement, it's a tradition that has become part of the wedding ceremony, a ritual. Yup, purely optional but such a beautiful tradition and we do wear those rings with great pride don't we? And who doesn't love seeing the children all dressed up with the important job of carrying those rings? Check out Ben & Sophie below :)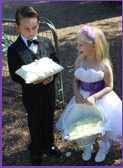 Well I better dash, I'm seeing a couple this afternoon and need to get a little run in as I'm aiming for my 10th City To Surf run here in Sydney in August. I think it might be a walk/run but still lots of fun.
Enjoy your Queen's Birthday and see you here next week.

Liz

Contact Liz
Liz lives in Balgowlah on Sydney's Northern Beaches right next to Manly and it's famous ferries.
Postal address: PO Box 1627, Neutral Bay NSW 2089 Australia
Email: liz@liztaylorcelebrant.com
Mobile Phone: 0411 422 681
or from outside Australia: +61 411 422 681